The 81st Annual Maskat Shrine Oil Bowl Charity Football Game was held at Memorial Stadium on Saturday July 16 2018.  The Oil Bowl game started in 1938 and is one of the most prestigous post-season all star games in the United States.
Since its beginning, all proceeds from the game are donated to charities for children suffering from orthopedic or burn injuries.  In 2012, the Shriners' Hospital for Children became the official charity of the Oil Bowl Games.  The motto of the famous charity game has always been, "Strong legs run so weak legs may walk".
All the fun and hardwork begins for the athletic trainers on the Tuesday before the big game.  This year OSTC had two staff athletic trainers and one student intern serve on the Oil Bowl Sports Medicine Staff.  Steve Bailey, Thomas Patrey and Bryson Young, a senior student at Sam Houston State University, worked with the players on both the East and West teams.  This year was Steve Bailey's 50th year to work the Oil Bowl.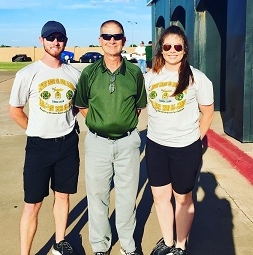 Over the past 50 years, Steve has had the opporunity to work with many high school football players at the annual game, some of whom have gone on to play in the NFL.  Steve even recalls a time when the players would have to practice for two weeks prior to the big game, now the athletes only practice for three days prior to the game.
Steve Bailey is already making plans to attend next years game!!  OSTC is proud to have such a great athletic trainer as part of our staff.
CONGRATULATIONS ON 50 YEARS!