Helping Santa with his gift giving has become an annual tradition for the employees at OSTC.  Every year, before Christmas, the OSTC "elves" gather presents for a family in need.  The gifts are bought by different employees and stored away until "Gift Wrapping Day."  On this day, OSTC provides lunch and all the elves hang out and wrap gifts while watching a classic Christmas movie.  This year we chose to watch How the Grinch Stole Christmas.  
There is nothing "Grinchy" about this time though!  OSTC employees enjoy the teamwork involved in wrapping the gifts and just taking a time out from our busy day to enjoy good food and good laughs with our OSTC family.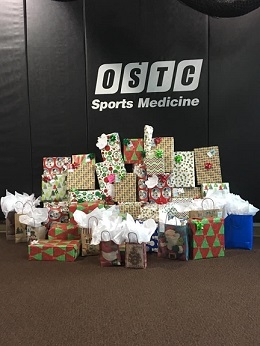 Its little things like this that make working at OSTC special.  One of our key beliefs at OSTC is doing the right thing for the right reason, and what is more perfect than giving back at Christmas time.
All the OSTC elves would like to wish a Merry Christmas to all of our fellow employees, families, patients and wellness members.  Thank you for your support and for making the Season Bright!