January 21, 2019
Your first session with your physical therapist is called the initial evaluation. Your physical therapist will spend time learning about your condition, and how your condition is affecting your life. Your therapist will then take specific measurements of the impairments that may be causing your problem and put together a patient-specific treatment plan.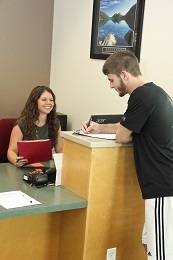 1. Show Up Early- It is suggested by the front desk staff at OSTC, that new patients show up about 30 minutes early to their initial evaluation. This will give you time to complete all paperwork and discuss insurance details with our patient care coordinators. If you have already completed the paperwork, it is advisable to show up at least 15 min. early to tie up any loose ends before your sessions begin.
2. Wear Appropriate Clothing- Your first day may require a lot of movement, with that in mind, be sure to wear comfortable-loose fitting clothing that allows for unrestricted movement. Also, your clothing should allow for access to your affected body part. If you are being treated for a shoulder injury, wear a tank top; if you are being treated for a knee injury, shorts are always a good option. OSTC has locker rooms available for you to change clothes, and the front desk staff can issue you a locker to store your belongings.
Read the Newsletter