OSTC would like to send a big CONGRATULATIONS to our very own Krystal Francique! Krystal just graduated from Midwestern State University with a Master of Science in Radiological Science (MSRS).
MSU was the first educational institution in the United States to offer a discipline-specific graduate degree.Today, the MSRS program at MSU remains a leader in imaging and radiologic sciences education and offers different areas of concentration. Krystal's degree focus was on the administration and educational track.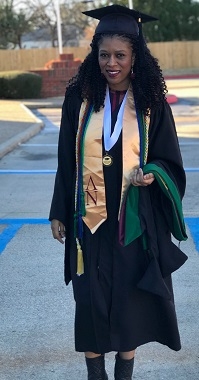 Krystal is originally from Grenada in the Caribbean. She came to Wichita Falls to further her education in Radiological Sciences. In 2013, she earned her associate's degree in Radiology and began working at OSTC. Krystal continued to pursue her educational goals while working at OSTC; she earned her Bachelor of Science in Radiological Studies and now her Master's degree. I think we all agree, earning two degrees while working is no easy tasks, but Krystal remained focused on her goal.
The OSTC family is so proud of Krystal and her accomplishments. Seretha Elkins says, "Krystal is a true asset to the company, not only does she bring a high level of knowledge as a radiological technologist, she also brings enthusiasm and management skills."
When Krystal is not busy studying or working, Krystal enjoys spending quality time with her friends and family.