OSTC FREE Walk-In Assessments
August is here and that means back to sports for a lot of athletes and coaches.  At OSTC, we know that this is the season filled with new injuries and soreness.  If you or your child experiences a suspected sports injury and you are unsure of what to do next, let us help you.  Come visit us for a FREE walk-in assessment!  The board certified Sports Physical Therapists and Certified Athletic Trainers can assess the injury and help guide you on the road to recovery.  We will make recommendations for treatment of your injury and if necessary make a physician referral.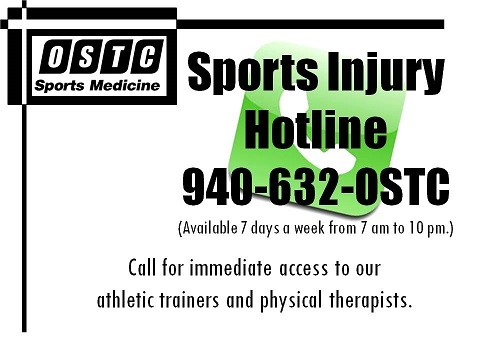 OSTC  Sports Medicine Hotline!
At OSTC, we are here to get you back to playing the sports you love as quickly and safely as possible.  This starts with providing you quick access to our sports medicine professionals through our Sports Medicine Hotline.  When you call, you will immediately speak to a Physical Therapist or Certified Athletic Trainer who will get you started on the road to recovery.  We can guide you through how to treat your sports injury and set you up for a free assessment in our clinic.  If needed we can assist you in scheduling a priority appointment with one of our Orthopedic Surgeons.  The Sports Injury Hotline is available 7 days a week, from 7am-10pm.  If you call after hours, please leave a message and your call will be returned.  If you feel your injury is a medical emergency, contact 911.