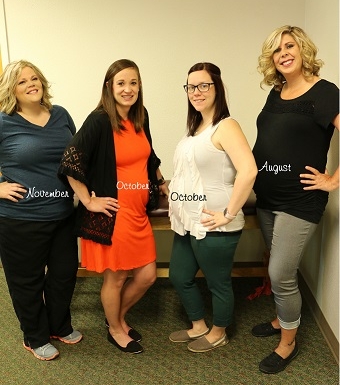 As the old saying goes "There must be something in the water!"  This year, 4 employees of OSTC are proud to announce they are expecting new babies in the coming months.
Tana Drennan, athletic trainer, will be kicking off the baby train in August.  Tana, her husband Joshua and daughter Marley are excited to welcome baby boy Waylon to the Drennan Family.
Christie Offield, patient care coordinator, is due mid-Ocotober.  Christie, husband Steven and daugther Maddison are expecting the only baby girl of the group, Kenadie Rose.
Next up is Shannon Morgan, business office coordinator for OSTC.  Shannon and her husband Dennis are excited to bring home baby brother, Eyan Haze to big brother Bowen.
Jackie Malone, OSTC's massage therapist, and husband DJ will have to set an extra spot at Thanksgiving dinner this year!  They are expecting their first child, baby boy Ronan in mid-November.
OSTC would like to wish all our mommas the best in the coming months!  The OSTC family is growing quickly!