Are you ready to have your best season ever?  OSTC's Athlete's Advantage Summer Program is your chance to gain that competitive edge. 
OSTC's Athlete's Advantage is specialized programs based on sport, goals and age.  Our programs are designed and run by experts- including Strength and Conditioning Specialists and Certified Athletic Trainers. Athlete's Advantage Summer Program includes training in agility, speed, strength, power, endurance, flexibility and jump training.  Athletes will be tested and given scores documenting improvements made through out the program.  Our specialists will work to correct form and coach proper technique in an effort to prevent injuries.  Athletes will be able to take the strength and skills they gain from our program and improve the quality of their performance on the field or court.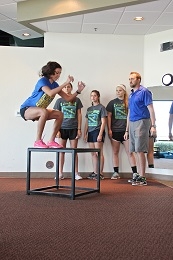 The Athlete's Advantage program at OSTC incoorporates scientifically proven methods to decrease the risk of injury and increase power.
We show you exactly how to improve your game – giving you the edge you need to rise above the competition.  OSTC Strength and Conditioning Specialists are signing up individual athletes and teams now.  Call OSTC to get a spot!  Ask about our Team discount!   Team spots will fill up fast!  940-692-4688