Every year around Christmas time, the staff at OSTC magically become Santa's helpers. This has been a tradition at OSTC since the doors opened in 2002.
The "elves" sign up to help a local family for the holidays by providing gifts. The OSTC employees purchase gifts throughout the weeks leading up to the "wrapping party," then on wrapping day the real party begins.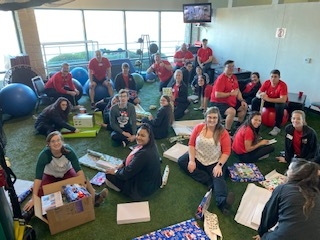 Lunch is provided by OSTC, and the elves quickly get to work wrapping all the presents and enjoying each others company. It is a holiday tradition that is looked forward to year round by all the employees at OSTC.