OSTC is proud to be the first clinic in the Wichita Falls area to offer LiteCure Laser Therapy. This next generation healing modality is up to 3000 times more powerful than conventional lasers.
Laser Therapy is an FDA approved modality that reduces inflammation and ultimately results in pain reduction. Laser Therapy is effective in treating acute pain, chronic conditions, and post-op pain.
Laser therapy treatment is safe, painless, and fast. Deep Tissue Laser Therapy treatments are administered in 5 to 10 minute time segments and typically patients see results after 3 to 5 sessions. Deep Tissue Laser Therapy utilizes your body's own healing powers by stimulating cellular activity. Despite fast treatment times, laser therapy initiates a healing process that continues to actively reduce inflammation for up 24 hours.
During treatment, you will feel a soothing warmth that identifies the beginning of an 18-24 hour process of modulated cellular activity leading to decreased pain and inflammation.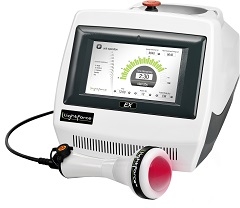 What does LASER do?
"Laser Treatment" or photobiomodulation causes physiological and biochemical events to occur within the cell which may include the following:
●Analgesia (relief from pain)
●Reduced Inflammation
●Accelerated Tissue Repair/Wound Healing
● Increased Blood Flow
●Reduced Fibrous Tissue Formation
● Improved Nerve Function
How does LASER give pain relief?
● Increases release of beta endorphins
● Increases release of nitric oxide
●Decreases bradykinin levels
●Stabilizes the membrane potential of the nerve cells
What is the cost of LASER treatment?
At OSTC, we believe the LASER treatment can be beneficial to many patients.  If you are interested in Laser, and would like to see if this treatment could help you, call OSTC to set up a free consultation with one of our athletic trainers or physical therapists.  Your first LASER treatment is complimentary.
additional treatments are $20/session or $150 for 10 sessions.